IMSC spin-off Audyssey Labs introduces breakthrough audio technology in home theaters
Audyssey's MultEQTM technology in new Denon receiver breaks through "sweet spot" limitation and customizes the listening experience for each person, turning every seat into the "best seat in the house"
MultEQTM comes from research in IMSC's Immersive Audio Lab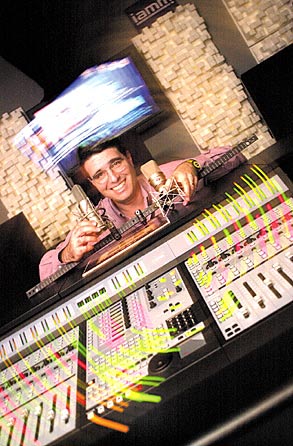 Photo by Irene Fertik
IMSC key investigator Prof. Chris Kyriakakis, an Audyssey Co-founder and Chief Technology Officer.
---
Audyssey Laboratories, Inc., of Los Angeles, a spin-off company of the Integrated Media Systems Center (IMSC) of the University of Southern California (USC), has introduced breakthrough technology for home theater systems that customizes the listening experience for each person in the room.
The technology, called MultEQTM, is a feature of the AVR-5805, a new audio/video receiver from Denon Electronics of Japan, a leading manufacturer of high-quality home theater receivers.
Denon introduced the receiver at the Custom Electronics Design and Installation Association (CEDIA) Exposition in Indianapolis, IN, September 8-12, 2004.
"Audyssey's MultEQTM technology turns every seat into the 'best seat in the house,' breaking through today's 'sweet spot' limitation, where only one seat gets the best sound," according to IMSC key investigator Prof. Chris Kyriakakis, an Audyssey Co-founder and Chief Technology Officer.
"Now, with MultEQTM, the entire audience is in the 'sweet spot'-everyone can hear the same high-quality sound, no matter where they are sitting in the room," he said.
Denon said the AVR-5805 receiver is an unprecedented single-component solution that lets consumers enjoy a distributed four-zone home theater entertainment experience.
Prof. Kyriakakis, an associate professor of electrical engineering and IMSC's Research Area Director for Sensory Interfaces, said MultEQTM is the first room correction and calibration technology capable of minimizing the effects of room acoustics for multiple listeners.
He said that an Auto Set-Up function automatically determines how many loudspeakers are connected, whether they are connected in phase, and whether they are satellites or subwoofers. It then analyzes and calibrates speaker level size and distance.
In addition, he said, MultEQTM detects the proper crossover point and determines the correct frequency response for up to eight listener positions simultaneously. It creates an optimized soundfield and compensates for speaker and room capabilities.
Prof. Kyriakakis also said MultEQTM is available for car audio systems.
Denon said the receiver is the first-ever high-performance alternative to multi-component distributed audio-visual systems. The AVR-5805 offers such setup and operating options as one full 9.1-channel surround sound system in a single room; two discrete 5.1-channel systems in different rooms; one 7.1-channel system in the main zone, with a 2.1-channel system in a second room and a mono system in a third room; and an audiophile-oriented "bi-amp" mode, with two amplifiers used for each front, left, right and center speaker or for a full five-channel system, delivering maximum power and performance.
Prof. Kyriakakis pointed out the MultEQTM technology resulted from research in audio signal processing, acoustics, and psychoacoustics at IMSC's Immersive Audio Laboratory.
Audyssey Laboratories was founded in July 2002 as an IMSC spin-off by Prof. Kyriakakis; USC Ph.D. and Audyssey President Dr. Sunil Bharitkar; and USC Master's graduate and Audyssey Chief Executive Officer Phillip Hilmes. USC Prof. Tomlinson Holman, a key IMSC investigator, also serves on the company's Board of Directors. More information about Audyssey is available at http://www.audysseylabs.com.
Dr. Isaac Maya, IMSC Director of Industry and Technology Transfer Programs, pointed out that Audyssey's commercial success with this technology is a direct result of a research culture that encourages close collaborations with industry.
"IMSC research is aligned with industry needs and offers higher potential for commercial success," Dr. Maya said, adding that eight other small companies have been spun off from the Center in addition to Audyssey. He also said that IMSC has successfully concluded more than 100 licenses and technology transfers, including some major commercial successes, and has a broad spectrum of advanced information technologies available for licensing.
IMSC is the National Science Foundation's exclusive engineering research center for multimedia and Internet research. For more information on IMSC's industry program, visit http://imsc.usc.edu/industry, or contact Dr. Maya at (213) 740-2592; imaya@imsc.usc.edu. Denon press release.