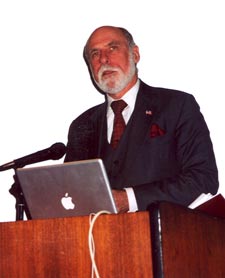 Vinton Cerf, Senior VP of Technology Strategy, MCI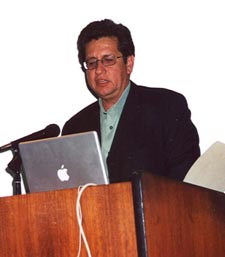 Roberto Medrano, Co-Founder and CEO, HispanicNet, Executive VP, Digital Evolution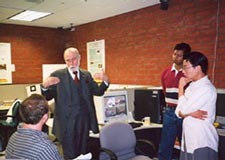 Cerf speaks with IMSC students.
Internet pioneer Vinton Cerf and Hispanic Internet business leader Roberto Medrano gave presentations at IMSC's Open House in October.
Cerf, who is a co-designer of the TCP/IP protocols and the architecture of the Internet, viewed the Open House demonstrations and met with IMSC faculty. In his keynote talk after touring IMSC, he praised IMSC's demonstrations, citing "exciting opportunities for user interaction in immersion and special effects." He spoke enthusiastically about the "evolution of multimedia into the Internet environment." Cerf is MCI's Senior Vice President of Technology Strategy.
In his presentation, Medrano emphasized the importance of improving opportunities for Hispanic entrepreneurs in the high tech field. He is a co-founder and Chief Executive Officer of HispanicNet, a non-profit organization dedicated to assisting Hispanics in high tech businesses.
Medrano is also Executive Vice President of Sales and Marketing for Digital Evolution, an enterprise class software vendor for service-oriented architecture security and management.
The Center for Technology Commercialization in the USC Marshall School of Business and HispanicNet joined with IMSC to co-sponsor the evening with Cerf and Medrano. Members of HispanicNet attended the event.