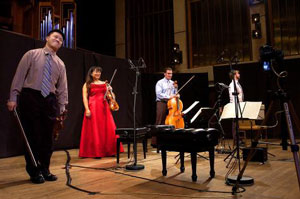 The Miró Quartet on stage at the Bates Recital Hall at the University of Texas, Austin. From left to right: Daniel Ching, Sandy Yamamoto, Joshua Gindele and John Largess. While they performed for one audience in Bates Hall, their performance was transmitted live over the Internet to another audience in McCullough Hall, about 150 yards away. McCullough Hall featured IMSC's high definition video and 10.2-channel immersive audio. The two audiences switched places at intermission so all could experience both a live performance and immersive performance.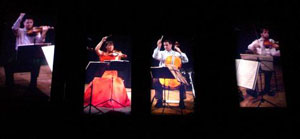 The performers projected on to four screens at nearby McCullough Hall for the second audience.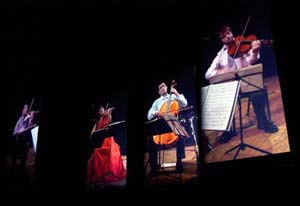 Photos by Ralph Barrera, Austin American-Statesman
IMSC researchers demonstrated the first-ever live immersive environment over the Internet for a performance by the Miró Quartet, a nationally-known chamber music group, at the annual member meeting of the Internet 2 organization at the University of Texas (UT), Austin, in September 2004.
"We were tremendously excited to work with the Internet 2 organization and the Miró Quartet to demonstrate some of IMSC's latest technologies," according to IMSC Director Prof. Ulrich Neumann.
He pointed out that IMSC has developed award-winning applications in pre-recorded and streamed immersive environments.
While the quartet performed for one audience, researchers transmitted their performance in real time to a second audience in another auditorium, using advanced video and audio technologies for an unprecedented sense of immersion.
The images of the performers were projected on four high definition screens (one for each performer), and the audio was captured and rendered using IMSC's 10.2-channel immersive audio technology, the next generation beyond 5.1-channel surround sound.
At intermission, the two audiences switched places, and, at the end of the show, they participated in a survey designed to determine the efficacy of immersive environments.
Researchers from IMSC and Information Technology Services at UT developed the survey. Survey results are being analyzed.
IMSC participants in the project included Chris Kyriakakis, director of the IMSC Immersive Audio Laboratory; Tomlinson Holman, key investigator at the Immersive Audio Lab, professor of film sound at the USC School of Cinema-Television, and principal with TMH Corp.; Roger Zimmermann, IMSC streaming media technology specialist and research assistant professor; Christos Papadopoulos, assistant professor of computer science; Alexander A. Sawchuk, IMSC Deputy Director and professor of electrical engineering; Elaine Chew, assistant professor, Epstein Department of Industrial and Systems Engineering; James Donahue, consultant to IMSC and principal recording engineer, WGBH, Boston; Beomjoo Seo, IMSC graduate research assistant; and Moses Pawar, IMSC graduate research assistant.
Internet 2 is a consortium being led by more than 200 universities working in a partnership with industry and government to develop and deploy advanced network applications and technologies, accelerating the creation of tomorrow's Internet.
The Miró Quartet is increasingly recognized as one of America's brightest and most exciting young chamber groups. For more information on the Miró Quartet, visit http://www.miroquartet.com.
For more information on IMSC Internet streaming technologies, visit http://dmrl.usc.edu/hydra and http://imsc.usc.edu/research/project/immersiveaudio.