BioSIGHT Interactive Streaming Storyboard
The goal for the BioSIGHT Interactive Streaming Storyboard (ISS) platform is to use visual thinking and learning to assist teachers in creating visually compelling interactive lessons as well as support users in telling stories with streaming media. Dynamic illustrations such as animations, can more explicitly illustrate the dynamic properties of systems and the functional or causal relationships among their entities. Video is a compelling medium to communicate real-world footage that captures simple concepts from everyday life to conveying more complex science, math, engineering, and technology concepts. Text or verbal narration can use language to identify, describe and explain entities and processes of a system that may not otherwise be perceivable, and correspondingly, this information is stored in memory in characteristic ways. Using streaming media resources may help students develop a range of simple systems to express their ideas, therefore providing a strong rationale for the use of multimedia to support visual thinking and learning for students of science, mathematics, engineering, and technology. Evaluation and design feedback from teachers in field test studies conducted by BioSIGHT effort suggested a need for tools to support customizing and authoring lessons with streaming media.
BioSIGHT is an application research project in the area of education. BioSIGHT was established in 1997 to examine critical issues for technology research, development and implementation in the area of education. Application research projects at IMSC demonstrate domain-specific prototype applications that allow focused evaluation of on-going research efforts in conjunction with analysis and insight about usability, robustness, and effectiveness.
The BioSIGHT project spans the technology spectrum by concurrently addressing the reality of today's classroom, as well as prototyping advanced immersive learning environments with advanced input/output devices and high bandwidth capability for a complex system. As the BioSIGHT project evolves, the collection and analysis of human factors data on student learning will provide feedback for the technology research and development. We view this as two complementary processes: research in integrated media systems gives rise to new educational tools and the lessons learned from using these tools provide new directions for the development of more advanced systems.
BioSIGHT's latest innovation, the Interactive Streaming Storyboard, allows user's to author and edit information and media from an online source, for presentation and educational purpose.
This system uses a hierarchical format of lessons, concepts, and characters, as building blocks, enabling the user to customize their visualization. This process allows the presentation to be focused around content and storytelling.
This system's components are the Player Component, the Authoring Component, and the Media Manager Component.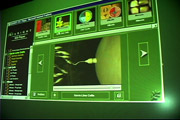 The Player Component
Much like thumbing through the pages of a book, the system's Player Component features: skipping ahead concepts, revisiting previous concepts, and drilling down into characters for greater detail, as well as viewing a transcript.
The Authoring Component
The system is simple and requires no HTML programming knowledge to author.
Simply:
Assign a title for a new lesson.
Then, create a concept by assigning movies, transcript text, and a cast of characters.
Character creation also involves choosing a movie, title, and transcript. You may build up your streaming storyboard lesson as large as you like by continuing to add concepts and characters.
Finally, as you finish adding content, you may choose to refine your presentation by sorting and re-sequencing your concepts within the lesson.
Media Manager Component
The Media Manager Component allows a user to "cut and paste" a movie's URL in order to either; add it to the library's archive, delete its source media, or trim a specific clip, cuing the video to a new start point.
Together the development of these components are central in moving from conceptualization to practice, supporting BioSIGHT's vision of making information an experience worth remembering.
Video [quicktime] | [winmedia]
IMSC's Technology Summary
NSF Report
Poster
More Info
Laboratory