About IMSC
Under the leadership of founding director C. L. Max Nikias - now USC's President - the Integrated Media Systems Center (IMSC) was established in 1996 through a competitive process resulting in an 11-year, US $32 million grant from the National Science Foundation. The only NSF center of excellence in multimedia and the Internet, IMSC carries out a pioneering, cross-disciplinary program of research, education, outreach, industry collaboration and technology transfer.
Over the past decade, IMSC has become a worldwide leader within this burgeoning field. In its first five years alone, IMSC attracted more than US$50 million in additional funding from government, industry and academe, and is leading the way in advancing the software and hardware framework to create immersive environments in which people can interact, communicate and collaborate naturally in a shared virtual space.
IMSC has been an energetic force in the expansion of the USC Viterbi School of Engineering, serving as the catalyst for six new curricular programs: two undergraduate minors in Multimedia and Creative Technologies - one for engineering students and another for non-majors; a Bachelor of Science in Electrical Engineering with an emphasis in Integrated Media Systems; a Master of Science in Integrated Media Systems; a Master of Science in Electrical Engineering with a specialization in Multimedia and Creative Technologies; and a Master of Science in Computer Science with a specialization in Multimedia and Creative Technologies.
The Center also has created a vibrant program for industrial collaboration and technology transfer. Since its inception, IMSC has had 96 invention disclosures filed at the USC Technology Transfer Office, 51 patents filed, six patents issued, 88 commercial licenses and technology transfers, and nine company spin-offs established. The Center's vision and leadership in integrated media and creative technologies have garnered widespread acclaim from the National Science Board and the National Academy of Engineering, as well as from other elite research universities and industry leaders.
As a leader in the Internet and multimedia field, IMSC has developed such unique immersive technologies as three-dimensional face modeling and animation, immersivision panoramic video technology, and the world's most advanced immersive audio. Major progress has also been made in haptics - touch-related technologies that have enormous potential for advancing health care and improving lives - as well as data compression and wireless communications.
IMSC's integrated research approach is progressing toward Immersipresence, the Center's vision for the future of the Internet. IMSC views Immersipresence as the next great breakthrough in our digital era that will dramatically change our world within this decade, transforming our two-dimensional world of computers, television and film into three-dimensional immersive environments.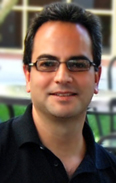 Director
(213) 740-8162
shahabi@usc.edu
Having completed its NSF funding, and under the new leadership of Prof. Cyrus Shahabi, IMSC is focusing on a new vision "Geo-Immersion: Geo-realistic Virtualization of Urban Environments." Geo-Immersion is a new computing paradigm that enables humans to capture, model, integrate, and query static and dynamic data from the real world in real time at fidelities not previously available. A Geo-Immersive world is an ultra-high resolution virtual world that is geographically accurate, enables efficient querying and analyses of dynamic data, and supports interactivity from a variety of interface modalities. As a proof-of-concept system for this vision, IMSC is developing a prototype Geo-Immersive environment for USC main campus, called iCampus.USC. iCampus.USC is a Geospatial Social Networking Web-Portal for the USC Community including a 3D high-quality USC campus and its neighborhood.
Beyond its research mission, IMSC is also dedicated to training engineers for careers in the fields that rely on this technology. In support of USC's ongoing commitment to the community, IMSC continues to implement outreach programs that provide interface opportunities to at-risk youth and those who have traditionally lacked access to this technology.
For more information contact:
Greg Constante
Office of the Director
Integrated Media Systems Center
Viterbi School of Engineering
University of Southern California
(213) 740-8945
lgconsta@usc.edu
Direction
View Larger Map
Address
Integrated Media Systems Center
University of Southern California
Powell Hall of Engineering, PHE 306
3737 Watt Way, Los Angeles, CA 90089-0272
Phone: (213) 740-8945
Fax: (213)-740-2539